Search by Keyword

Product Categories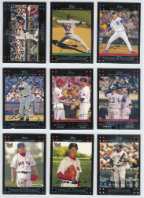 Click to enlarge image(s)
This is a 2007 Topps Baseball set in NMMT to Mint condition. This set contains the Derek Jeter error card with President Bush and Mickey Mantle picture in the card. You will not get this card in the factory sets. Take a look at the long list of rookies in this set

Andrew Miller Zach Segovia
Delmon Young Brandon Morrow
Troy Tulowitzki Chris Stewart
Vinny Rottino Alexi Casilla
Ryan Braun Matt Chico
Kevin Kouzmanoff Alejandro De Aza
David Murphy Josh Hamilton
Ryan Sweeney Doug Slaten
Fred Lewis Andy Cannizaro
Delwyn Young Juan Salas
Jeff Salazar Levvale Speigner
Miguel Montero Daisuke Matsuzaka
Shawn Riggans Elijah Dukes
Brian Stokes Kevin Cameron
Philip Humber Juan Perez
Scott Moore Alex Gordon
Adam Lind Juan Lara
Chris Narveson Mike Rabelo
Oswaldo Navarro Justin Hampson
Drew Anderson Cesar Jimenez
Jerry Owens Joe Smith
Joaquin Arias Kei Igawa
Jose Garcia Hideki Okajima
Shane Youman Sean Henn
Brian Burres Jay Marshall
Ryan Feierabend Jared Burtom
Josh Fields Angel Sanchez
Glen Perkins Devern Hansack
Mike Rabelo Juan Morillo
Ubaldo Jimenez Hector Gimenez
Akinori Iwamura Brian Barden

There are a total of 661 cards in this set.

Pocket pages do not ship with set. All hand collated sets are shipped securely in card storage boxes inside corrugated boxes.

Shopping Basket
Note:
All prices in US Dollars